Happy Sunday! It is the end of my spring break :( I am recovering from the fun from last night so I decided to procrastinate my homework even more by looking at yummy dessert recipes! But overall it was a great day filled with many laughs from stories of last night, food with friends, a run and a little bit of homework. Tomorrow I am forced back into reality of school... but at least I still have the weekend! Hope you all enjoy these delicious recipes! Love you all!!
"We all have our time machines. Some take us back, they're called memories. Some take us forward, they're called dreams."


Coconut Cream Cupcakes
makes about 16 cupcakes
1 cup sugar
1/2 cup butter
2 eggs
1 teaspoon vanilla
1 1/2 cups flour
1 teaspoon baking powder
1/4 cup coconut milk
1/4 cup heavy cream
3/4 cup shredded coconut
Preheat oven to 350.
Cream butter, sugar, and eggs together until fluffy. Add vanilla and mix.
Combine dry ingredients in a bowl. Add half of the dry ingredients, mixing until just combined. Add the coconut milk and heavy cream. Once mixed, add remaining dry ingredients. Fold in shredded coconut.
Pour into cupcake tins and bake for 20-25 mins at 350. Let cool, then frost.
Coconut Cream Frosting
1 stick butter, softened
2-8 oz blocks of cream cheese, softened
1.5 – 2 lbs powdered sugar
1 teaspoon vanilla
4 oz package Jello instead coconut cream pudding
toasted coconut for garnish
Cream butter and cream cheese. Add powdered sugar gradually and mix. Add in instant pudding mix. Mix until desired consistency. Frost cupcake and top with toasted coconut.
Coconut Banana Chocolate Chip Cookies
From Girl Meets Life:
coconut Banana Chocolate chip cookies
yields 12-14 cookies
dry ingredients:
3/4 cup coconut flour
1/4 teaspoon baking powder
1/4 teaspoon salt
wet ingredients:
1 banana, mashed
1 tablespoon honey
1/2 tablespoon coconut oil
1/4 teaspoon vanilla extract
1 cup unsweetened almond milk
mix-ins:
3 tablespoons dark chocolate chips
other options: nuts or dried fruit
directions:
Preheat oven to 350 degrees.
Combine dry ingredients.
Combine wet ingredients **except for the milk** in a separate bowl.
Add wet ingredients to dry ingredients and combine.
Add milk and combine 1/4 cup at a time.
Add chocolate chips.
Oreo Cream Cheese Brownies
very slightly adapted from

Annie's
Ingredients:
1/2 cup (1 stick) unsalted butter
¾ cup sugar
1 cup all-purpose flour
½ cup unsweetened dark cocoa powder
1 dash of salt
2 large eggs
¼ cup milk
2½ cups chopped Oreos
8 ounces cream cheese, at room temperature
½ cup + 2 tablespoons confectioners' sugar
2 teaspoons vanilla extract
Directions:
Preheat oven to 350 degrees. Line a 9×9 pan with foil and spray with non-stick cooking spray.
In a medium-sized saucepan, melt butter and sugar over medium level heat, whisking frequently until boiling. Allow to boil for 1 minute and remove from heat. Set aside.
Combine remaining dry ingredients in large mixing bowl.
Once butter and sugar mixture has cooled slightly, whisk in eggs and milk.
Add wet ingredients to dry and combine.
Stir in Oreo pieces.
Spread brownie batter into pan.
Using an electric mixer, use the whisk attachment to beat the cream cheese until fluffy.
Beat in the confectioners' sugar and vanilla until well combined.
Drop cream cheese mixture onto brownie batter.
With a knife, draw lines back and forth through mixture to swirl.
Bake for 20-25 minutes, or until firm. Do not overbake.
Black Bottom Ice Cream Cupcakes
Yield:
36 ice cream cupcakes
Ingredients
1

Prepared white cake batter from 1 box mix

3 cups

semi-sweet chocolate chips

1/2 gallon strawberry ice cream
Cooking Directions
Pre-heat oven as directed on cake mix box
Prepare cake batter
Use a cookie dough scoop (about 2 tablespoons) to place batter into cupcake tins filled with paper cup holders or sprayed with cooking spray
Bake cake 8-10 minutes or until a knife comes out clean
While cupcakes are cooling, melt chocolate in the microwave or on the stove
Coat the bottom of separate cupcake baking cups with melted chocolate (about 1-2 tablespoons of chocolate each)
Freeze for about 10 minutes or until chocolate is hard
While chocolate is chilling, remove ice cream from freezer to soften
When chocolate has hardened, scoop about a quarter of a cup of ice cream into each cup
Place cakes on top of ice cream and push down to secure cupcakes
Cover cupcakes with saran wrap and freeze for at least one hour
Serve topped with whipped cream and jimmies
If your freezer is not very cold, make sure to serve immediately or cupcakes will melt
Cookie Dough Topped Brownies
Makes 36 brownies
Ingredients
4 ounces unsweetened chocolate
3/4 cup unsalted butter (1 1/2 sticks)
2 cups sugar
3 large eggs
1 teaspoon vanilla
1 cup all purpose flour
Cookie Dough (Adapted from the

Blue-Eyed Bakers

)
1 cup unsalted butter (2 sticks), softened
1/2 cup granulated sugar
1 cup light brown sugar, firmly packed
4 tablespoons milk (I use skim)
1 1/2 cups all purpose flour
1/4 tsp salt
2/3 cup chocolate chips
Brownies
Pre-heat oven to 350 degrees
Melt butter and chocolate in large sauce pan over low to medium heat
Stir in sugar
Stir in eggs and vanilla
Whisk in flour until smooth
Pour into a 9×13 pan lined with foil and greased or sprayed with cooking spray
Bake for ~30 minutes or until knife comes out clean
Cookie Dough
Beat butter and sugar until fluffy
Mix in milk
Gradually mix in flour and salt
Stir in chocolate chips
Allow brownies to cool completely (might be easier if they are frozen) and then spread cookie dough over the top
Store in refrigerator (or freeze)
Banana-Sweetened Chocolate Chip Oatmeal Cookies – Makes 15
Adapted from:
Dr. Fuhrman's
recipe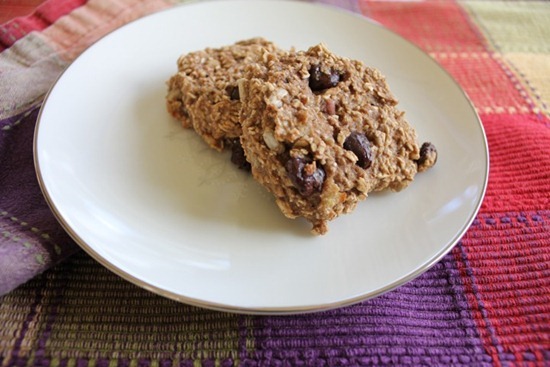 Ingredients:
2 cups uncooked rolled oats
1 teaspoon cinnamon
1 teaspoon unsweetened cocoa powder
4 ripe bananas, peeled
1/4 cup raw sunflower seeds, chopped
1/4 cup pecan pieces
1/4 cup grain-sweetened chocolate chips (found at a natural foods store)
Directions:
Preheat oven to 350 degrees. Add oats to a food processor and process 20-30 seconds until oats are ground into a flour. Combine oat flour with cinnamon and cocoa powder in a medium bowl. Add bananas to the food processor and process 20-30 seconds until pureed. Add bananas to the flour mixture and stir in nuts and chocolate chips. Stir it all up. Plop cookie-sized dough ball onto foil-lined baking sheet (no need to grease the foil). Bake for 13-15 minutes or until slightly browned on top.

Coconut Butter Cookies
3 cups (5.25 ounces) unsweetened, flaked coconut (If you use shredded, go by weight not volume.)
1 cup almond meal (again, I used the cheap Trader Joe's stuff for this)
1/4 cup garfava flour OR 2 T. sifted coconut flour (I've tried it both ways, I prefer the garfava, but if you can't eat that, then you can use the
1/4 t. salt
1/2 t. baking soda
2 T. ground flax seed + 6 T. hot water
1/3 cup palm sugar
1 t. vanilla
1/3 cup mini chocolate chips (optional)
Put the coconut in a food processor and turn it on. Let it run for about 10 minutes, scraping the sides occasionally, until you have a liquidy coconut butter. (If you don't have a food processor you could probably substitute melted purchased coconut butter of the same weight. But, that stuff is way too expensive to use in cookies, in my opinion. By the way, you can stop here, pour it in a jar, and have a really cheap version of coconut butter to spread on toast, too.)
Meanwhile, mix the almond flour, garfava or coconut flour, baking soda and salt in a small bowl.
hocolate chips. Roll small (1 T.) balls of dough, place on a parchment-lined cookie sheet and press with a fork in a criss cross pattern.
Bake for approximately 12-15 minutes. Cool completely before moving.